5th Grand Jazz Festival in San José: Music, Art and Taste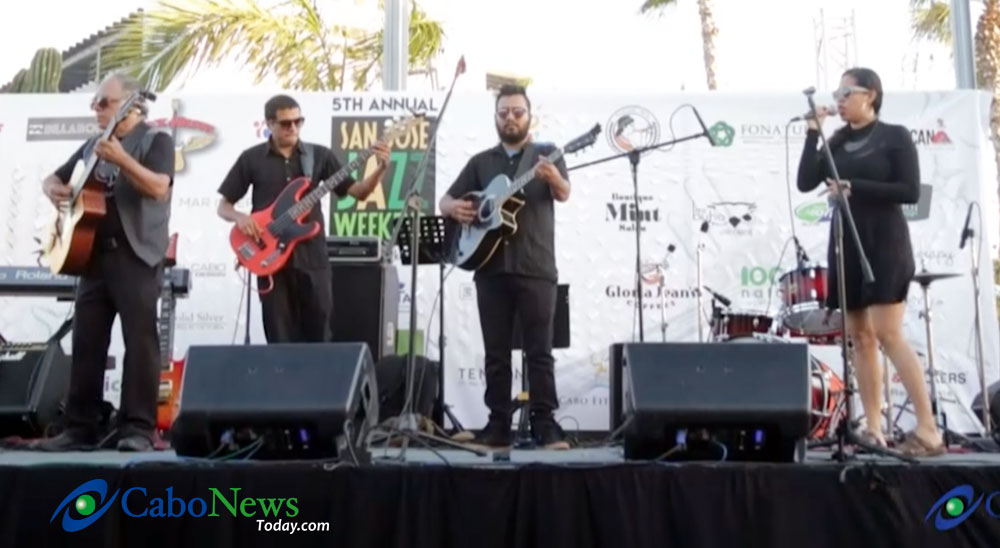 In the middle of a great atmosphere for family coexistence, friends, tourists and residents enjoyed the now traditional 5th San José Jazz Festival Weekend at Plaza El Pescador within the hotel district in San José del Cabo.
Starting at 5:30 and till 11 p.m. last Friday and Saturday of this month of February, music was the main protagonist for this great outdoor party attended by approximately 4 thousand people who were mostly tourists and English speaking residents from the area.
Organizers Mario Gadsden and Astrid Castañeda, municipal government representatives and the president of CANIRAC, Rodrigo Cabeza de Vaca provided the initial honors for this year's fifth edition of the festival.
As in previous festivals, painters and plastic artists were also given an area to exhibit their creations.
Meanwhile bars and restaurants from the Plaza and others from the Tourist Corridor offered the best of their cuisine during the two nights of this jazzy grove event.
The musical parade began with Félix Coronado and his Jazz Fusion with Roberto Salazar and Jesús Labastida.
Later came crowd pleaser Jankar Lorenzana of the well-known Jazz Project with Ivan Ocampo on piano, Fernando Vidal on bass and Juan Romo jamming the percussions.
Next came the extraordinary Adamaha Jazz Band from Monterrey, Mexico who playing Latin fusion and contemporary fusion jazz for the crowds' enjoyment.
Of the voices that stood out for their talent were Pilar Diosdado also from Monterrey, as well as the Traditional Jazz group and special guests Psychodrama Project.
Also present were Edgar Ayala on the accordion,
Oscar Zensei, Javier Garagarza and Azael Escobedo performing an excellent contemporary jazz set.
With the afternoon freshness left by a midday mild winter rain, fortunately gone before sunset, Saturdays musical line up continued and so we enjoyed listening to Jimena Bautista with Sergio Hesting on sax and Daniel Rodriguez on the piano.
Well-known and extraordinary guitarist Leopoldo Ladrón de Guevara played a set of acoustic jazz and flamenco fusion accompanied by Roberto Gutiérrez, Jesús Bastida on the electric bass with Leonardo Ladrón de Guevara on drums.
Not to be missed was the musical coordinator for the event Tito Rodríguez and his universal bass, who settled in nicely with most of the musicians and singers who delivered on stage.
People enjoyed the atmosphere, music, art and gourmet food in the midst of excellent weather and a climate of local friendliness.
With information from Armando Figaredo I'm Tony Perez for Cabo News Today.
WATCH THE VIDEO: