Princess Cruise Lines largest cruise ship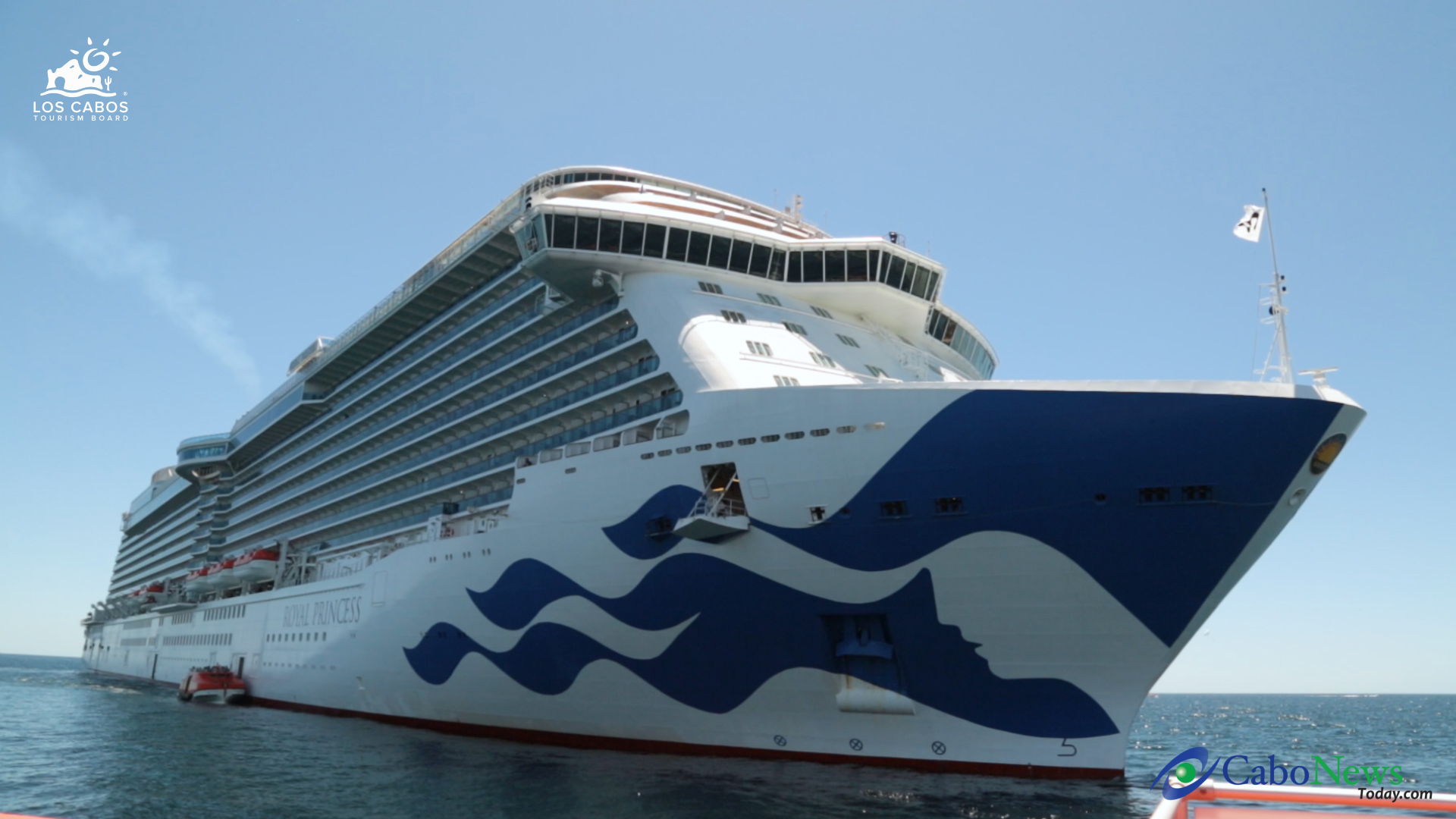 The Royal Princess, largest ship member of Princess Cruise Lines arrives in the port of Cabo San Lucas as part of a new cruise destination for this colossal floating city in the Pacific. Sailing from Los Angeles the ports of call are Cabo San Lucas, Mazatlán and Puerto Vallarta on a seven day cruise.
Captain Tony Draper: "The Mexican Riviera is fantastic to visit in addition to its splendid climate, which is always very popular ... The ship was built in Italy in 2013. The godmother of the Royal Princess is the Duchess of Cambridge"
This impressive ship is almost twice the size of the 1912 Titanic that had 9 levels, almost 270 meters LOA and held 2,800 passengers, and weighted little more than 52 thousand tonnage over all; The Royal Princess has a capacity for more than 4,200 passengers and about 1,400 crew members from more than 50 countries. Displacement tonnage is more than 142 thousand tons; length overall (LOA) is 330 meters, beam 40 meters and it has more than 17 levels of ship to explore.
Captain Tony Draper: "It is much bigger than the Titanic in fact it has a capacity of 4,250. We will be visiting the ports of Mexico every week."
Fernando Hoyos, API Cabo San Lucas: "We are pleased that this shipping line has entrusted and selected the port of Cabo San Lucas within the cruise of the Mexican Riviera ..."
The commercial impact for the area with the arrival of one of these cruise ships considering a stay of just over 8 hours, is very important.
Arturo Musi, President of the National Cruise Service Association: "... approximately 80% of the passengers are lowered ... it would be like 40% of the crew, according to a study carried out by the World Bank, it tells us that the passenger spends 90 dollars per tourist and $ 60 per crew member "
This Monday 3 cruise ships arrived in the Bay of Cabo San Lucas carrying more than 9,500 passengers, which represents an economic boom of more than half a million dollars in a single day.
Fernando Hoyos, API Cabo San Lucas "Today, statistics tell us that between 95 and 97% of the number of passengers on board visit the port."
Among the attractions on board are three different theaters for international level entertainment, luxury shops, several bars and restaurants of different specialties as well as gym, spa, swimming pools for children and adults, basketball courts, fast soccer, paddle tennis and other many activities.
Its gigantic HD screen presents movies and concerts that can be enjoyed from the large pool area.
As is customary, an exchange of memorial plaques takes place when a cruise ship first visits the port of Cabo San Lucas.
Currently Cabo San Lucas receives just over 230 cruise ships in a year.
Translation by Tony Perez