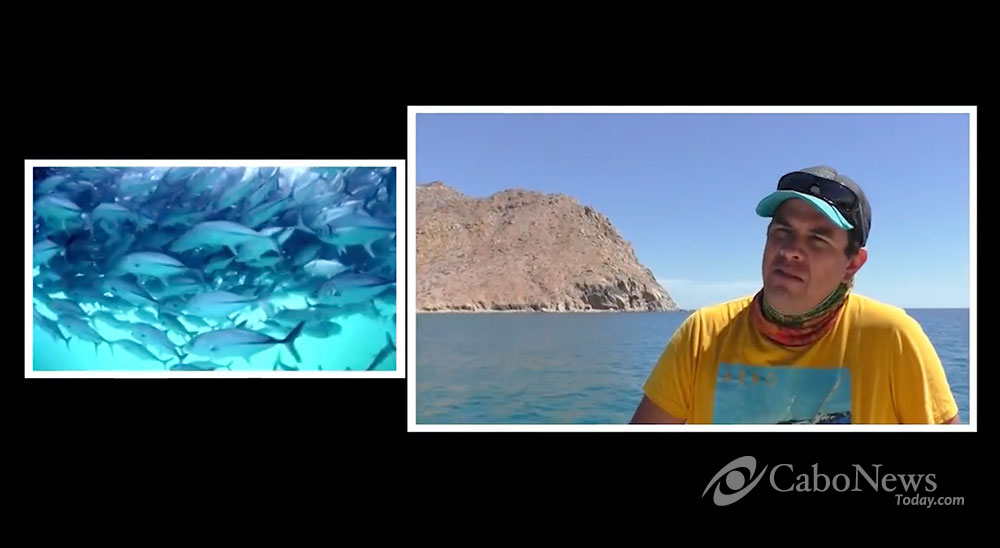 Tony Perez
Born in Venezuela but an adopted son of Mexico since 2002, Leonardo González studied Alternative Tourism at the University of Quintana Roo. Shortly after he fell in love with Cabo Pulmo and is currently based in La Paz, Baja California Sur since 2010.
LG: "Well, yes, since I arrived, I came directly to dive, I think it was love at first sight with the Sea of ​​Cortez. I did not have much information I was living in the Mexican Caribbean in the city of Chetumal, I worked In a site that's called Chinchorro Bank, which is a false coral atoll that is 30 km from mainland and very close to the border with Belize, there I worked for the National Commission of Natural Protected Areas, and in an exchange that occurred with the people of Cabo Pulmo, they were a bit like ambassadors for conservation success in Cabo Pulmo, I met members of the Castro family, specifically Richard Castro of Cabo Pulmo Water Sports; they left a video that I saw a long time ago about Cabo Pulmo , of the marine riches that's in Cabo Pulmo and I definitely said 'in that place I have to be', a month later I was diving in Cabo Pulmo and from there on began a relationship with this place... "...
Speaking of the care that must be taken to achieve a good photograph, he said:
LG: "Well the process of making an image, a good underwater image is a fairly extensive process because first of all you have to learn to dive very well ... this is the first thing, diving already by itself, being under water, Is it a situation in which you have to be very careful with preserving your life? ... you first have to have very good diving ability, very good control of your buoyancy, an exceptional knowledge of the reefs as well as knowledge of where you are going to position yourself so you don't damage anything, you need to have much control of where you are going, of the currents, of fish behavior, of how to arrive to take the best image and above all high ethics so not to modify the surrounding environment, not doing anything to disturb the animals ... annoying them to get a good image "
It is important not to interfere with the animal's surroundings or annoy them to get your photograph.
LG: "... if the animal poses for me, good, if not, I take a couple of documentation photos of that I saw and I then I go on my way; I do not like to interfere in the natural process. Obviously there are times when the fish lend themselves to the photographers and you can enjoy a bit, but I usually try not to interfere much with the dynamics of the ecosystems. Secondly you need to have exceptional knowledge and a very intimate relationship with your camera, because you are starting to add more factors together that make the dive more complex, that is, it's not only the preservation of your life as a diver, but also the preservation of the ecosystem, because when photographing you can become so involved that you can lose control, or you're flapping about or striking to the bottom, so you have to be very careful; in fact that's led marine photographer to be a bit demonized, because many people do it without taking into account these important factors "
As for techniques for photographing small organism he emphasized:
LG: "... obviously in certain places to have to be still to get a good shot, at least with video you need a good amount of light since you use macro lenses, any movement of the hand destabilizes the take due to the size of the animal, then If I'm using a tripod, for those cases, but it's also not for all shots ... you have to be very careful where you put the stand, where it's steady, the hole process to get that shot is to be done with great care. Anyway using a tripod is not something I would recommend to an amateur videographer since you have to have a great deal of knowledge of what you're doing.
Not only big animals attract him:
LG: "Everything that is tiny in the reefs, in the sand, is the basis of the ecosystem pyramid, but also make it known also because the Sea of ​​Cortez is not only known for its great animals: whales, sharks, the sea lions, but also by the nudibranchs. They're invertebrates, very small organisms, very colorful, that are in the reefs and here in the Sea of ​​Cortez we have the privilege to photograph them, to see them, to observe them, and when you start to realize all the life that is there at that scale the possibilities are infinite ..."
In relationship to the "Holy Spirit Is Part Of You" campaign, in which he actively participates with the Network of Citizen Observers, ROC, carrying out photography, videos and interviews, Leo commented:
LG: "... we have started with this conservation campaign of citizen awareness, Espiritu Santo Is Part of You where we intend to make people more aware of the value of the island as an economic and ecological engine for La Paz, for the Bay of La Paz, the island has Immense value both tangible and intangible, all the wealth that the island houses both on land and in its submarine portion, then it is that; a lot of my job has to do with showing what is at the bottom of the sea, for most of the people the sea is just a big blue mirror where one can't see what happens below, the dynamics of that happen below the sea ... " " I'm in charge of all the video and photography creation, right now it's not only underwater photography, we've currently involved in also collecting interviews, collecting information from the main actors that are around the island, with fishermen, with tourist businessmen, and in La Paz we are also carrying out a campaign with restaurateurs, so then we are raising awareness through several restaurants ... in LA Paz there are many chefs who have a lot of ecological awareness, and the majority of these people happen to be divers, so they are very concerned about the environment, and their opinions, beyond what could be said by a scientific opinion, or a fisherman, or a diver, or someone, who in theory may have a little less to-do with the sea but it is part of our citizen's opinion. Providing their opinion is also very interesting, so then we are working together on those fronts and well obviously also transmitting a lot of information for the social networks and generating pride for the island.
"Leo continues his work in preservation and conservation for the Sea of ​​Cortes not only through ROC, but also collaborating with the Sea Watch Foundation created by the legendary Mike McGettigan that aboard in its emblematic ship Ambar III, and for more than 30 years, it maintains a permanent fight for Conservation of the reefs and all the biodiversity that exists in the Sea of ​​Cortes and that unfortunately has been depleted and harmed by overfishing and illegal fishing.