International Kiteboarding World Championship Lord of the Wind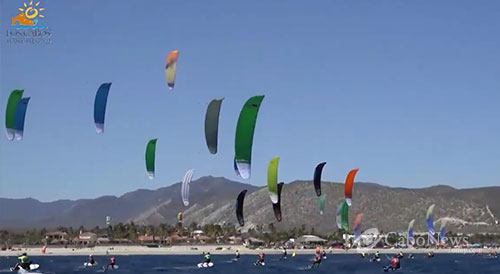 With the participation of 70 competitors from 15 countries including Mexico, United States, Russia, Denmark, Switzerland, Saudi and Brazil among others, took place the sixth international tournament of Kiteboarding "Lord of the Wind" or "El señor del viento" the beach of Los Barriles, in Eastern Cape, Baja California Sur.
It included 9 qualifying categories for the North America International Championship which was held for the first time in Mexico.
Felipe Valdez, Organizing Committee: "... usually done in San Francisco or San Diego and is the first time that is outside the United States. It is an honor for us "
Los Barriles is considered within the top 5 places in the world to practice this extreme sport especially in winter.
Steve Fowler, Director of "Lord of the Wind" (translation): "We have this beautiful north wind, right now, and blowing with the force of about 15 to 20 miles per hour each day, and the beach is perfectly aligned with the wind, this makes one of the unique conditions ... "
During five days over 4,500 people enjoyed this new extreme sport that began just 10 years ago in Hawaii.
Visilisa Zaytseva, St. Petersburg, Russia: (translation) "It's very nice ... I think I like the way it looks from the outside, so I decided to try, because you can feel the nature, the nature of the wind and the nature of water ..." It seems a very difficult sport but for Max, an instructor and competitor who lives in Los Barriles, it is not so.
Max Skaggs, Los Barriles Mexico: "Good swimming is the main thing and then fly the kite is a little practice but it is easier knowing that ..."
Stand Reporter: "In this championship Baja California Sur participate competitors from 14 to over 60 years old ... From Los Barriles in East Cape area, Armando Figaredo, News Televisa"