Kite Boarding Championship at East Cape, B.C.S.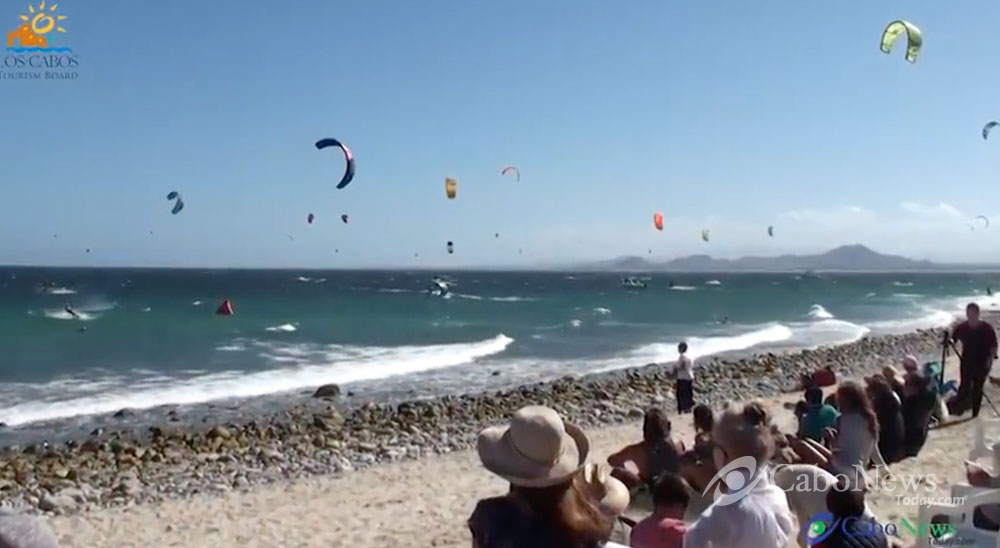 For the seventh consecutive year "Lord of the Wind" KITEBOARDING competition was held on the East Cape in the community of Los Barriles, Baja California Sur.
This year's 63 competitors came from countries as far as Argentina, Brazil, France, Italy and the U.S. as well as different beach communities in Mexico.
Committee organizer Felipe Valdez: "... This year as every year we have competitors from all over the world, Mexicans, Americans, Europeans, and South Americans.
And as always with excellent support from the public ..."
Cintya "Cynbad" Brown winner of the "LADY OF THE WIND" TITLE two years in a row, confirmed that Los Barriles is one of the best beaches in the world to practice this sport.
Cintya Brown, competitor (translation): "... The competition is incredible, very professional, the beach is beautiful, and it's a great place to be ..."
Julien Kerneur french competitor and two time champion "Lord of the Wind" versions 2015 and 2016 spoke about the competition "as being one of the most important due to its variety in competitive disciplines".
Julien Kerneur, competitor (translation): "... It's a great place, with good people. The competition is unique because we all compete in several disciplines at the same time ..."
Self-confidence, determination and lots of practice are the key elements in becoming a master of the air.
John Smith, competitor: "Competition is lots of fun, difficult at first but then it becomes easier and more fun, it takes determination, confidence and practice."
Roberta Sepulveda, competitor: "... It's the first time I've come and I've loved it so far, it's Mexico's biggest KITEBOARDING event, the sea is very different to where I come from, the Caribbean, but so far it's been fascinating... "
This KITEBOARDING competition is part of the classification events for the Youth Olympic Games, in Buenos Aires 2018.
Felipe Valdez, organizing committee: "Lord of the Wind has positioned itself as the best event in the country, we are part of the world ranking and it's become one of the challengers where athletes qualify for the Youth Olympics; in Rio it already was an exhibition sport..."
Antakar from Quintana Roo came to Los Barriles as part of his preparation to qualify for the Youth Olympics next year.
Antakar, competitor: "... It's a very good competition, I came last year, and this is my second time. It's not difficult anyone can learn and can do it, although it takes time. Also it takes discipline and being constant ..."
In addition to the sporting event Lord of the Wind is also a charity event that gives schooling support to children of the area and contributes much to the community of Los Barriles, in Baja California Sur, Mexico.
With information from Armando Figaredo, I'm Tony Perez for Cabo News Today.