Wild Canyon Adventures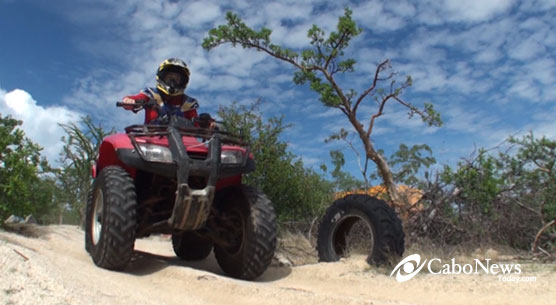 An amazing time is to be had at Wild Canyon. All sorts of different activities are available. There are very beautiful and dramatic views everywhere you look. The people are great and the service is fantastic, making you feel quite comfortable with the experience you are about to have. It's definitely a must when visiting Los Cabos. There is lots of fun to be had by every one of all ages.
Please tell me about your experience working here at Wild Canyon, the different activities, and how long is one of the tours?
Tours guide Alberto… "We have three different schedules available. If you start at 9 AM, depending how long the group is, you will be finished around 11:30 AM. Of course it depends on the speed of the group. The minimum age recommended is 6 years up to 99…"
Which Zip Line is your favorite out of the 8 and why?
Tour guide Alberto… "Going backwards on Zip Line 4 is my favorite one because no one expects this. It gives you another perspective completely… I also like the last Zip Line (number 8) because it's the longest and the fastest. The different activities we have are Bungee Jumping, Zip Line, Sling Swing, ATVs, and the Live Camel Ride. We also provide the Wide Open Tour…"
"Can you please explain this new sanctuary we will be exploring?"
Sanctuary Guide Aldo…"We will get to see a lot of variety of different animals. We will have parrots, African parrots, cockatoos and Guacamayas. They will interact with our guests where they can also be fed……Crocodiles and chameleons are also to be seen. In this particular case our guests will not be feeding them. We will show you the different species of iguanas; some are native and others are not. The darker colored ones are the native ones. In every set we will have a representative sculpture representative of Mexican culture…"
A Family of 4 who experienced the Zip Line: Emily, Ellebue, Noah and father Shane…"I really liked it because somewhere really fast and long. I also got to spend time with my family…I was a little scared on the last one… It was fun and I really liked going fast…"
Shane (father)… "It's a great experience for the kids; I encourage families to bring their kids. We had a great time…"