Run Cabo Half Marathon 2014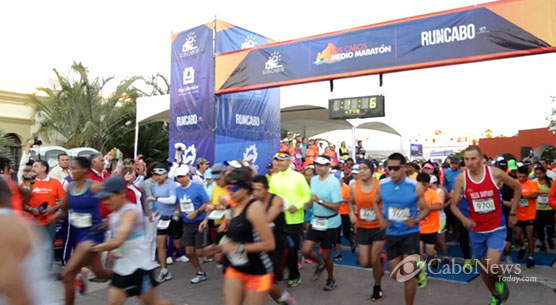 A total of 998 registered runners participated in the 5k and 21k half marathon. 150 registered in the male division. A total of 100 were registered in the women's division. 64 registered in the category of 50 and over age/division. 26 children between 8 and 10 years of age registered as well.
Run Cabo took place on Sunday February 9th at 7 am. The starting and finishing point was at City hall in downtown San Jose del Cabo. The track went through the hotel zone in San Jose going all the way to Puerto Los Cabos and coming back in to town.
In the Run Cabo half marathon we had athletes from Canada, United States and all over Mexico including locals and tourists.
Among the VIP athletes were the well known long distance runners, Elisha Korir and Rose Jebet. Ruben Reachi, secretary of tourism for the state of Baja California Sur, also participated in the 21k and is in favor of having Los Cabos host this kind of events.
The competition was certified by AIMS (Association of International Marathons and Distance Races ).