More than 2,000 athletes in the 3rd annual Los Cabos Ironman 2015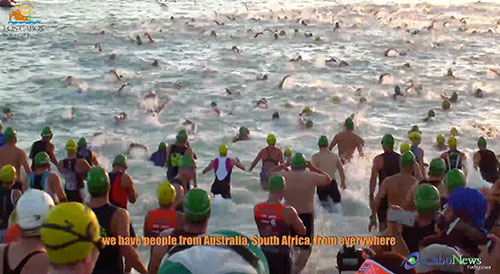 Mexicans Fernando Vargas and Edgar López, both from Guadalajara, did the one-two positions in the third Ironman of Los Cabos 2015. Under an intense sun athletes swam the 3.8 kilometers then 180 on bike finishing with more than 42 kilometers running. Winner in the male category made a 9 hours, 25 minutes time, while in the women's the first place was for Dubai's Liz Verhoyden with 10 hours and 43 minutes.
On this occasion and for first time was also organized simultanuesly the half Ironman 70.3 miles: swimming, bicycling and running. Mauricio Alvarez, organizing Committee: "we have thousand registered 70.3 and thousand of the full ironman...,(unir con)... are 46 countries, 46 countries are talking about 80 foreigners and 20 Mexicans..." Before of the Sun the superathletes prepared at the Palmilla Beach in the middle of a great atmosphere. Age was no obstacle for this Ironman competition.
Gail Huges, athlete from Colorado, USA: "I am 63 years old... it is not my first Ironman but is the first time in Los Cabos and is absolutely beautiful"
Ignacio López, Madrid, Spain:
- "Why you do this?
- ".. because normal people do not do so because I am crazy. This is an absolute sacrifice"
Kaylin White-Kentucky (US): "I love to run and I love to travel so I think that it will be a little crazy but it will be fun..." Max Laurenrt, Helsinky, Finland:"... necklace.This is my first ironman..." I always wanted to be an ironman..."
The output of the swimmers and the rest of the any was acclaimed by thousands of family members and visitors during the whole day and part of the night encouraged the high performance athletes. Jorge Armando Sánchez, 71-year-old athlete: "..." When your have my age you have to finish alive and breathing In Mexico every year there are only two places where an International and qualified Iroman is taking place: Los Cabos, Baja California Sur and Cozumel, Quintana Roo.