The First Off Road Race Baja Sur 500 from Cabo San Lucas to Loreto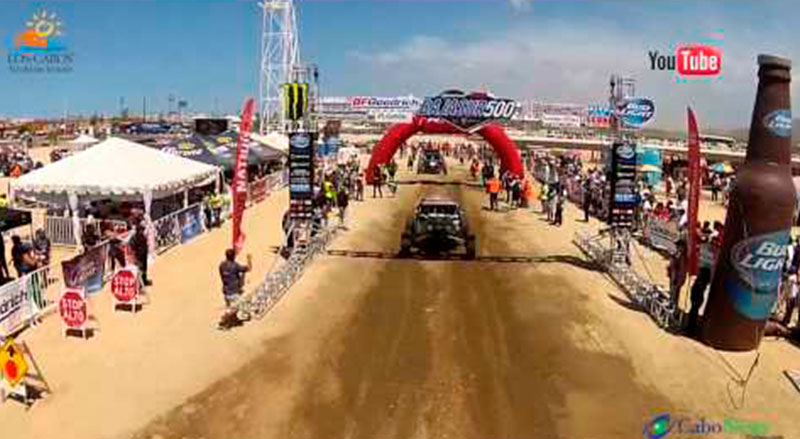 The first Off Road race Baja Sur 500 concluded after nearly eight hours of rough and rustic roads totalling a 424.5 mile expedition under the burning sun of southern Baja California peninsula.
The overall winners of the first race were the pilot Eduardo Laguna from Mexicali in the Trophy Truck with a time of 7 hours and 35 minutes and the duo of Steven Eugenio from California and Armin Swautz from Austria with 7 hours and 39 minutes.
On a interesting note this first race was an initiative of the governor of Baja California Sur, Marcos Covarrubias. Two years ago, Score International, organizers of the legendary Baja 1000, Baja Sur 500 and the San Felipe 250, were given the task of including this new race to be officially recognized on the Off Road Racing International Championship.
Hundreds of fans got together at the Cabo San Lucas "Yenekamú" field to support their teams.
All categories participated, from motorcycles, ATV's, buggies, class 11 cars, and the spectacular and costly Trophy Trucks.
89 teams from 12 US states competed, as well as international pilots from Austria, Canada, Germany, and Mexico.
(Mexican and American copilot)
According to Oscar Ramos, general coordinator of the race, there were 116 national and international groups providing media coverage for USA, Canada, Latin America, Europe, and Asian audiences.
Oscar Ramos, General Coordinator (reply in English)
The head of the Ministry of Tourism of the state, Ruben Reachi, was in charge of coordinating the state financial support for this great event, gave the starting signal for the race, representing Governor Covarrubias.
The Mayor of Los Cabos, Antonio Agúndez, also spoke of his participation as a sponsor of the race.
59 teams arrived in Loreto out of the 82 teams that started at the "Yenekamú" field in Cabo San Lucas.