Lord of The Wind a huge success with many spectators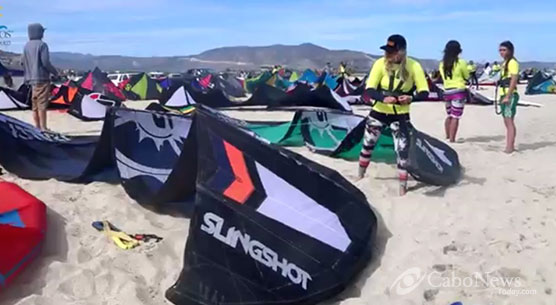 The 5th. Edition of the international tournament of Kite-surfing "Lord of the Wind" has come to an end. This event was hosted on the beach of the town of Los Barriles located in the municipality of La Paz next to the border with the municipality of Los Cabos and only about 50 minutes from San José del Cabo.
For four days Los Barriles received more than 1,500 people who enjoyed not only the competition but also of festivals and concerts on the beach that lasted the entire weekend.
The best of the best gathered in this kite board competition. Participants from around the world competed in this international event.
In this occasion 65 athletes attended from 8 countries including UK, Spain, France, South Africa, Australia, USA, Brazil and Mexico.
The Mexican competitors in this tournament were: Dante Unzón from La Paz, Mac Scott from Los Barriles, and; Adam Weddinton also resident of Los Barriles.
Five of the participants are part of the top 10 of the international rankings.
Los Barriles is considered one of the most important worldwide destinations for this sport and the best time of year to practice this sport is between November and April of each year.
The different categories for this competition were: race track speed, slalom, freestyle, jumps and spins in the air.
This sport can be practiced by children of 10 years of age with no less than 38 kilos of weight and for people over 80 years of age.
Proceeds went to the Rotary Club as well as other charities in Los Barriles.